Implementing the iPad into my every day lessons has not been as easy lately. I have been busy working with a student teacher and helping her with her first ever Science unit that she has planned and taught in full. When you have someone else doing the teaching you don't realize how often you "borrow" from that science time to do other things such as my monthly theme or my ELA ~ my technology time:) I have also been busy preparing my students for their week long Standardized test (the CAT-4). It is highly stressful, time consuming and significantly impacts the organization of my day. Hopefully in another week we will get back to some quality iPad time!
In the mean time, I have still been finding time to explored my beloved pinterest and today I stumbled upon this lovely link to some Science apps. It is VERY diverse... yes junior high teachers there is something here for you too! Even high school!!!!!! Some of it is pricey, some of is looks fun and some is just way cool if it meets your curriculum. Here's the
link
. Check it out and if you find one that you particularly recommend, give me a reply. I would LOVE to hear about it!
Learn Sharks - I think I'll get this one for my son and it's a freebie!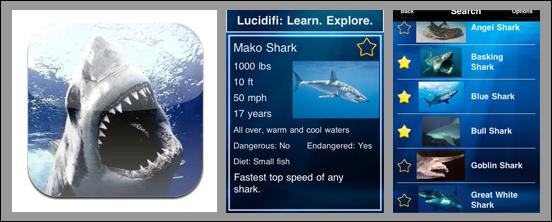 Nasa App HD - this one looks pretty cool too!